SAVE MONEY AND TIME!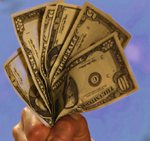 Call (856) 691-7343
to start lowering your costs today.
Advanced Waste Management is a consulting company with only one objective: to lower your costs associated with solid waste disposal and recycling.
Unlike other consultants you may have used previously, we differ in the following ways:
We charge no up-front fee, so this is not an item you need to budget for!

We do all the work of finding ways for you to save money, present our recommendations for your approval and then implement the recommendations. We don't add work to your already busy schedule. Instead, we remove work!

A Share of the Savings is Our Only Payment. Simply put, the only time there is a fee is when we save you money. And this fee is for a portion of the savings for a period of time.

You pay us nothing unless you save money, and then you only pay a share of those savings.